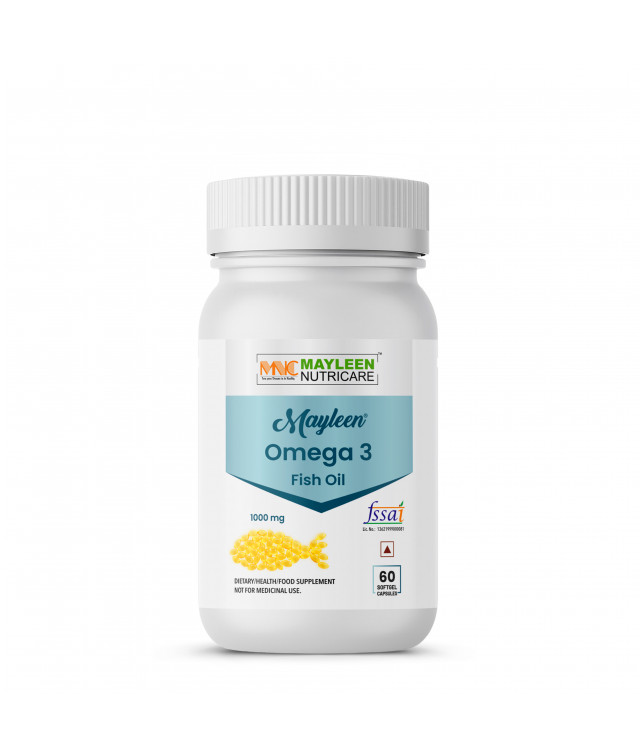 2240
2240
Incl.of all taxes
---
---
MAYLEEN OMEGA-3 FISH OIL
PRODUCT INFO: -
Omega-3 fish oil contains both Docosahexaenoic acid (DHA) and Eicosapentaenoic acid (EPA).
Omega-3 fatty acids are essential nutrients that help to manage heart health by maintaining blood cholesterol levels.
INGREDIENTS :
Fish Oil contain Docosahexadnoic acid and Eicosapentaenoic, Vitamin E(as tocopheryl acetate), Sorbitol, Gelatin[422], Vegetable Oil, Methyl Paraben Sodium[219], Propyl Paraben Sodium[217].
EICOSAPENTAENOIC ACID (EPA) :
The best-known omega-3 fatty acid, EPA helps the body synthesize chemicals involved in blood clotting and inflammation (prostaglandin-3, thromboxane-2, and leukotriene-5). Fish obtain EPA from the algae that they eat.
DOCOSAHEXAENOIC ACID (DHA) :
This omega-3 fatty acid is a key part of sperm, the retina, a part of the eye, and the cerebral cortex, a part of the brain.
BENEFITS OF OMEGA FISH OIL:
Omega-3 fatty acids from fish oil are known to manage heart health by maintaining blood cholesterol levels
EPA & DHA in Omega-3 fatty acid is known to enhance memory, fight depression & anxiety, thus helping manage mental health.
Omega-3 Fish Oil (EPA +DHA) has been found to improve bone & joint strength, which can help manage bone health.
Disclaimer :
NOT FOR MEDICINAL USE. Not recommended for children. Pregnant or lactating women should consult their physician prior to use of this product. This product is not intended to diagnose, treat, cure or prevent any disease.
.
Serving Instructions:
One Softgel, two times per day, preferably with a meal. Not to exceed the recommended daily usage.