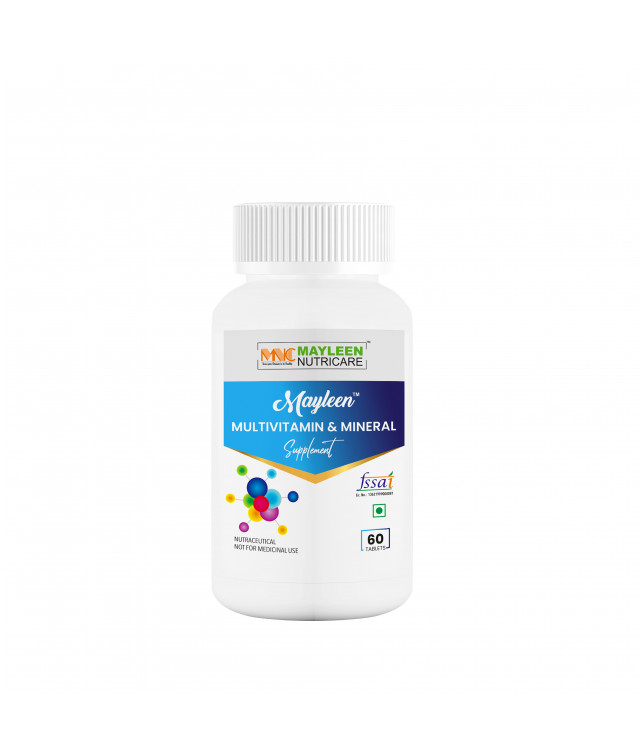 1979
1979
Incl.of all taxes
---
---
Product at Glance
MAYLEEN MULTIVITAMIN AND MINERAL SUPPLEMENT
Essential vitamins, minerals and antioxidants, support your immune system.
Ingredients:
L-Lysine,L-Arginine,L-Methionine, Biotin,Vitamin K1,VitaminD3, Lycopene, Lutein,Beta carotene,Green Tea extract,Iodine,Silicon,Boron,Molybdenum, Iron,Calcium Carbonate, Potassium Chloride,Copper Sulphate, Magnesium Sulphate,Phosporous,Vitamin A,Vitamin C,Vitamin E, Mangenese Sulphate,Chromium Chloride,Vitamin B1,(Thaimine HCL), Vitamin B2(Riboflavin), Vitamin B3(Niacinamide), Vitamin B5 (Calcium Pantothenate), Vitamin B5(Pyridoxine HCL), Vitamin B12 (Cyanocobalmin),Folic Acid,Class II Preservative (INS211),Maize Starch (INS 1405), Sodium Carboxy methyl cellulose (INS 468),Talc (INS 553(iii)),Polyvinyl polypyrolidone(PVPK)(INS 1202), Magnesium Stearate(INS 470(H)), Hydroxypropyl Methyl cellulose (INS 464), Collaidal Silicone Dioxide (INS 551),Ethyl Cellulose (INS 462),Di Calcium Phosphate,Sodium Starch Glycolate

Key Benefits:
Provides a unique blend of 32 essential vitamins, minerals & herbs.
To reach your wellness goals give your body the benefit of essential vitamin, mineral and anti-oxidants.
Usage
One tablet of MVT should be consumed Two times a day along with your meals.