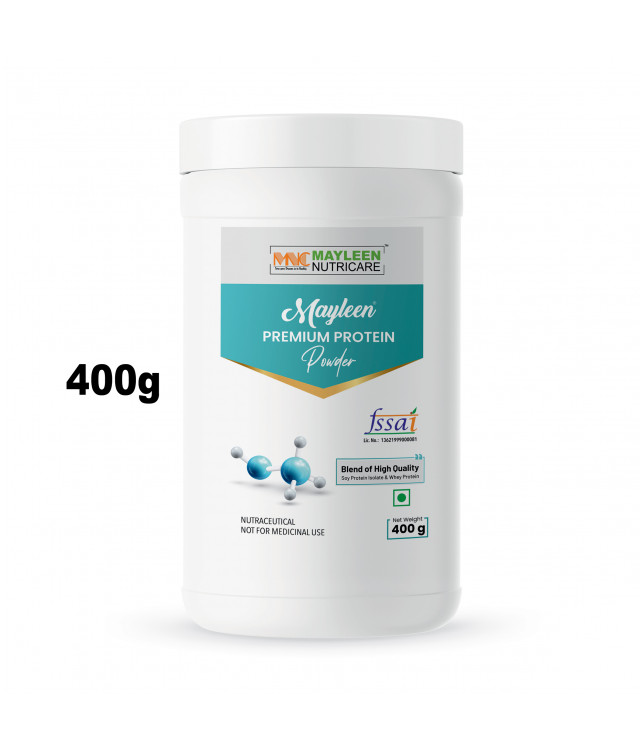 2544
2544
Incl.of all taxes
---
---
Product at Glance
Mayleen Premium Protein Powder is a simple way to increase your protein consumption which helps in maintaining your energy level between meals, it also helps you to maintain lean muscle mass.
Ingredients:
Soy Protein isolated & Whey Protein isolate, Sucralose

CONTAINS ADDED ARTIFICIAL (VANILLA FLAVOURING SUBSTANCES),ALLERGAN CONTAINS MOLK AND SOY
CONTAINS ADDED ARTIFICIAL SWEETNER (SUCRALOSE INS 955)
Key Benefits:
Premium Protein Powder-Blend of high quality soy protein isolate and whey protein creates and helps feeling of fullness with good nutrition, most convenient in your daily activities of life and helps to support your fitness goals and for maintaining lean muscle mass.
Recommended Usage:
Simply mix 1 to 3 scoops of Premium Protein powder with your favorite beverage, with soup or gravies to get high quality protein from Soy & Whey.
Premium Protein powder provides 5 g of protein in one serving