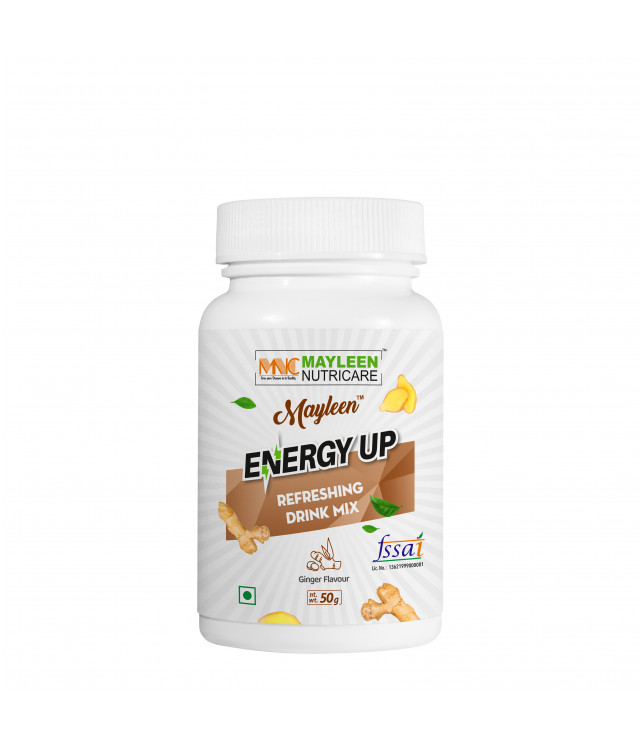 808
808
Incl.of all taxes
---
---
MAYLEEN's ENEGRY-UP (GINGER FLAVOUR )
MAYLEEN ENEGRY-UP is a low calorie refreshing lemon flavored drink with the goodness of tea extract, Green coffee, Ginger, Ginseng and Cinnamon. The natural extracts in ENERGY UP help you to lose weight by boosting body's metabolism.it helps you in having Healthy active lifestyle. It is a healthier alternative to tea, coffee, aerated or energy beverages. ENEGRY-UP can be enjoyed anytime of the day as a refreshing drink with hot or cold water.
Here are some major benefits of MAYLEEN ENEGRY-UP
Benefits:
· Provides less than 4 calories in one serving
· Gives you instant energy and boost metabolism
· Supports Mental Alertness as it provides 50mg caffeine in one serving
How to Use:-
Dosage: - 1 Scope/ 1 grams 180 ml of Hot or Cold water
Best time to take: - Can be taken any time a day, Can be taken before work out as an energy booster.
**Not to consume more than three servings per day or consume not more than 500ml per day**
**Not recommended for children, pregnant or lactating women, person sensitive to caff